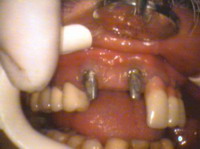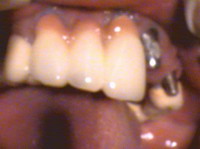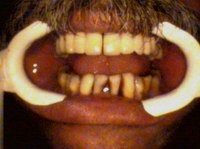 The Anterior Maxilla Showed Missed teeth from Canine to Canine and the Jaw A Much Bone Resorption .
Two Stage Implants Placed In Right, Left Centrals And Canines Areas on Both Sides. Temporary Partial Denture with soft acrylic lining. Abutments attached after Integration. Abutments Adjustment for a Two Bridges With A Diastma In Between. Metal Free Restorations
Pink Porcelain Added Cervical To Keep the Proper Cosmetic Appearnace of Teeth.